This past weekend marks the Hindu festival of Diwali...which is actually celebrated by Hindus, Buddhists, Christians and pretty much every other solitary being in India. Diwali is known as the "festival of lights," and is one of the most important holidays of the year. Depending on where in India you reside there are differencees in the legends behind Diwali, though all stories focus on the "triumph of good over evil." Some of the more common legends are:

In the North you might commonly hear the legend of Rama and Sita...Rama and his wife Sita, after a period of exile, return to claim their kingdom and defeat the demon, Ravana. After this battle, the former exiles are greeted by the lights of row upon row of oil lamps in celebration of their victory.

In the South (where we live,) the legend of Lord Krishna's victory over the demon, Narakasur is more prevalent. Lord Krishna smears the blood of the Nakasur on his forehead and is subsequently bathed in oil upon return to his home. A morning cleansing oil bath is part of some traditions in Southern India.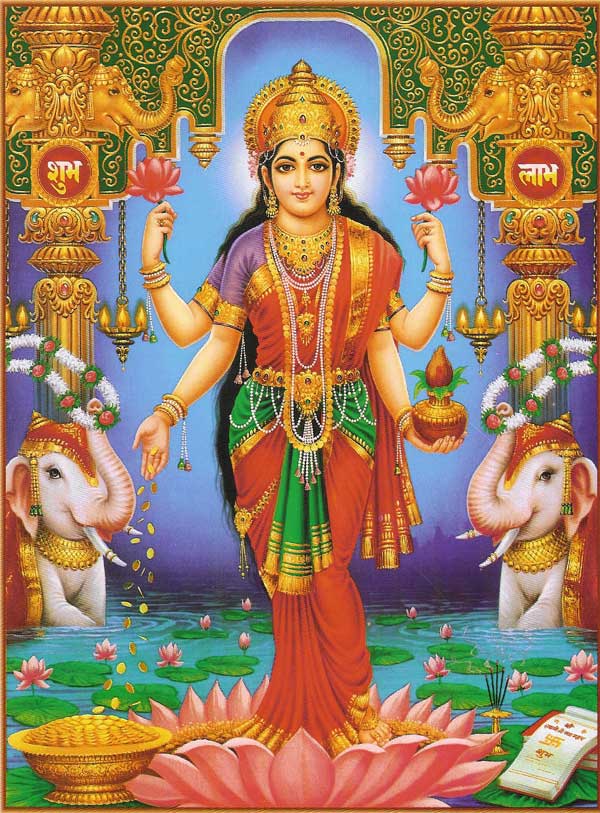 Diwali is also very commonly known as the day to worship the Hindu Goddess, Lakshmi. Lakshmi is known as the Goddess of Prosperity, Wealth and Good Fortune. Traditionally a pooja (basically a holy prayer and blessing) is made to the Goddess. A pooja to Lakshmi would involve ritual bathing of a Lakshmi icon, offerings of fruit, spice, grains of rice, other special foods and money (which would subsequently be offered to the poor.) Incense would be lit and special prayers offered. "O Univesal Mother, shining like the sun, it is through Your penance that the holiest trees of Bilva and Tulasi are born. They symbolize the tree of life. The fruit of that tree of life removes our poverty from both within and without. In other words, bless us with inner light and outer independence and abundance." (for more Lakshmi prayers, check out
http://stephen-knapp.com/prayers_to_goddess_lakshmi.htm
)
Other Diwali traditions are: the lighting of "diyas"...oil lamps to represent light over darkness and to welcome good fortune (usually in the form of Laksmi) to home and family. The lighting of "crackers"...BIG fire crackers available on the street and not exactly *regulated*. The purchase of gold, silver or at the very least a few new utensils. New clothes. Gifts for family, friends and neighbors (ours brought over chocolate covered almonds and traditional Indian snacks.) Each house is also thoroughly cleaned (out with the old dirt...in with the new, so to speak.)

The Fischers spent the weekend in Palm Meadows. We gave our Raju (driver), Vimala (maid) and Lokesh (cook) the weekend off, along with a nice bonus. It was the first time that Raju had been home to his village for over 24 hours in more than 5 years.
In keeping with the spirit of the holiday, we lit our oil lamps promptly at 6:00 pm, asked God (and Lakshmi) to bless our home with abundance and peace, cautiously lit some fireworks that Vimala had given as a Diwali gift to the kids (!) Made a *ceremonial" (read home made potato salad, hamburgers and a small watermelon) meal and pretty much spent the weekend lounging at the pool along with the other Minnesota Target expats... I should note that there were REAL (BIG, LOUD AND ILLEGAL WITHOUT A LICENSE IN THE U.S.A) fireworks being lit all over Palm Meadows and the rest of Bangalore and Bob was kind of mad at me that I wouldn't let him buy the big ones... Grayce had learned at school that the fireworks are commonly made in Tamil Nadu, often by small children who end up poisoned by the dangerous chemicals used to manufacture them. Given that our child was beset by the lessons of life and morality, "I don't want to kill any children!" (crying,) it seemed both prudent and necessary not to drive straight out and add rupees to their downfall simply for sparklers! We did have to coach her to say a nice "thank you" to our maid from whom the fireworks we did have were a loving gift. Which is not to say that we didn't sort of wish we didn't know anything about it just so we could enjoy the dangers like any fool... The streets smelled like sulphur all weekend and the "atom bombs" bursting at 3 am were a little much. It is also true that a number of eye injuries associated with fireworks were reported in the paper...
Bob wins the husband of the month award for the stellar Diwali jewelry he gifted his wife with:
Being a part of the Diwali festivities was a fun and interesting way for us to learn more about culture and religion here in India!
The Fischers